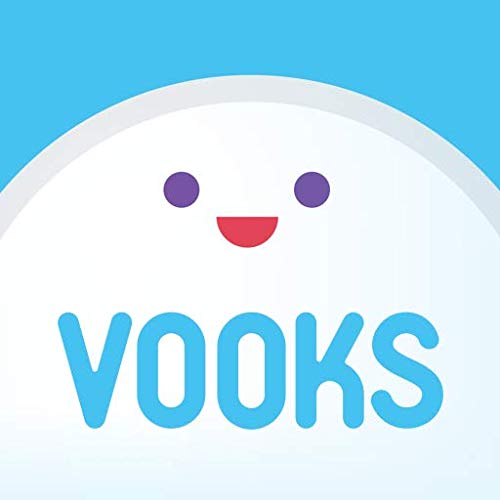 "Vooks is a subscription-based app also known as the Netflix of children's books. Its bookshelf has been growing since its launch. Should I get it for my kids in 2021?"
The quick answer to this question is "they've got a 30-day free trial." But I highly recommend you to read this review before making a decision to try this new type of children's book.
The short answer is: "No, not yet." but with many valid exceptions I listed below.
I don't want to be replaced yet
As a developer and a product designer, I love technology. I always look for an opportunity to replace and improve boring things with the wonders of tech.
But reading books to my child is one of the most important activities in my life and I would never forfeit it to any technologies. The voice actors at Vooks have such beautiful voices. I speak English with an accent. The animations on Vooks are brilliant, but my paper books are, well, made of paper and some of them are torn and worn off.
I cannot compete with Vooks. It's like a home-made sock puppet show VS Cocomelon.
It took me so much effort to convince my three-year-old to read with me. I often almost break into tears of joy when she brings her favorite books and sits on my lap. I am not ready to give away that experience or even risk it.
It's a bang for your buck but not quite
One of the biggest complaints about Vooks since its launch was that there were not enough books. I think that problem is nearly solved. Now there are almost 100 books in their inventory. If you would pay $5 dollar per book plus their awesome teaching resources and activities that come with each book, there is a solid $500 value right there which you can access all by paying only a fraction of that amount.
One of the biggest downsides is that you cannot own any of these digital books. Sometimes I prefer to simply own something without being tethered to a subscription plan. Therefore that lack of security and ownership made it a no for me.
A Netflix of Children's Books just doesn't work
Netflix ruined the experience of watching movies for many of us. It's hard to get immersed in a movie. I would swipe through the list of movies on TV for ten minutes only to find myself scrolling through Instagram again. Sometimes too many choices and easy access to them can ruin the joy.
The easiest way to make my daughter happy is to grab a two-for-three-dollar children's book from a Walmart and casually place them on her bed and that makes her day. She will yell "Yay I got new books today!" for the rest of the day. That is the invisible value of a two-for-three-dollar. Vooks can't replicate that and it might also take that joy away. (I already lost the fun and excitement of digging through $5 DVD bins.)
A parent at the YFMV group told me that her four-year-old went through all the books on Vooks really quickly like any other kids of that age would do on Youtube. You might be able to overcome this issue by streaming books individually and selectively on a TV screen. But many parents would have their kids use the app on their phones or tablets.
Now, let's move on and talk about why you should get Vooks in 2021.
Here is why you "should" get Vooks in 2021
1. You're an educator
Vooks offers awesome teaching resources for most of their books. You can check out their free lesson plans on their website. Many of our YFMV community members who are teachers sent me lots of positive reviews. As of 2021, Vooks are offering a year-long free subscription for educators. I believe it's worth it for pre-schools and daycares to invest in a paid subscription down the road. Here is an awesome review by a teacher.
2. You love children's books
This is my case. Surprise, surprise. I did get a year subscription despite my somewhat negative review so far. I'm genuinely enjoying the story, artworks, and those awesome voices. I sometimes listen to them while going to bed. Most of all, I also use it to improve my accent so I can read books to my daughters with correct pronunciation. So if you are an adult children's book reader this is a truly revolutionary way of doing your little hobby.
3. It's your niece's birthday
I believe it is a more environmentally friendly and definitely way better choice than another plastic toy. The price is an acceptable gift range (around $50ish USD and $70ish Canadian after-tax for a one-year subscription.) You can stream Vooks on a TV screen. So you don't have to awkwardly ask your sister-in-law if she has a tablet. Most likely, she's not gonna use it but you did spare her from picking up another plastic toy on the floor after her work.
4. Sometimes it's just too tiring to read and I don't want to feel guilty showing them Youtube
And you just said "No more Youtube for you!" last week.
Conclusion
In my opinion, the current version of Vooks is a great teaching tool for educators but not for family users, yet. But it has so much potential and room to grow and it is definitely on my watchlist.
As a nerd dad and a developer, I was so tempted to talk about how it can be improved further for family users and how I might want to implement them on both backend and frontend for hours but that's off the topic and I must end here.
Check out our list of apps chosen and recommended by our YFMV community members (Link.)
Cover Photo by Sven Brandsma on Unsplash